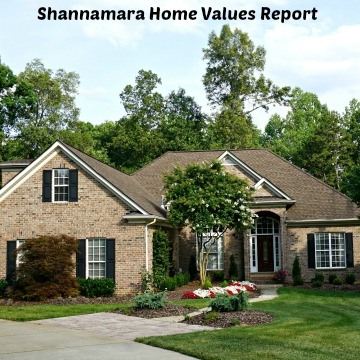 By Carol Fox | Matthews NC Communities , Shannamara
​​Shannamara Home Values Report

​Shannamara in Matthews NC is a 700+ home community built around The Divide Golf Course. How did Shannamara home values fare in the third quarter of 2017? This market report will show you home prices and trends in the neighborhood.
Shannamara was built from the mid-1990s until approximately 2005. A number of builders constructed homes in several villages or sections of the neighborhood. The variety of builders over a number of years means that the community includes a variety of home sizes, ages and features. For this reason, average sales prices will vary from quarter to quarter based on which Shannamara homes sold during that quarter.
What's My Shannamara Home Worth?
Click on the button below to request an online opinion of the value of your Shannamara home.
Third Quarter 2017 Market | Shannamara in Matthews NC
The table below shows the nine homes that sold in Shannamara in the third quarter of 2017. The sold prices ranged from $327,000 to $452,500. The average sales price in Shannamara during this quarter was $365,556.
While the average sales price in the third quarter was substantially less than in the second quarter, Shannamara home values year to date are up 5.3% over 2016. Homes were on the market an average of 54 days in the third quarter and closed at 97.62% of asking on the average.
​All information is from the Carolina Multiple Listing Service.​
Shannamara Homes for Sale
There are currently eight homes for sale in Shannamara. They range in size from 2600 square feet to over 4000 square feet. They are priced from $354,900 to $465,000. Five of the homes are on the golf course and two have swimming pools.
Search all Shannamara homes for sale by clicking on the button below. Contact Carol Fox at 704-905-3935 to schedule an appointment to see any of these homes.